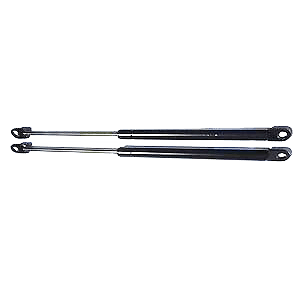 Packasport
35-POUND STRUT SET
Fits these models:
Freestylers (60 & 60LP)
Day Tripper (71ss)
AND Voyager (90XP)
Dimensions:
Extended 15 inches
Compressed 9 inches
35 Lb Strut Set
Installed and works perfectly.
Struts for System 60 (Freestyler)
Bought 35-lb struts as instructed but closing the unit is difficult. Have use 2 hands and pull down evenly so as to not stress the lid. Wondering if I got more than 35 lbs.
Not as substantial as originals
So I have a very old packasport box, it's actually branded Excalibur, before name changed. Anyway, original struts finally went. These replacements work but shaft diameter is significantly less with a significant reduction in rigidity. Box popped open on a windy day while loading and one strut broke at eyelet weld first week. Will replace but wish they'd source out a new supplier
Quality, exactly as expected
Received struts within 2 days if ordering, in time for the trip they were needed on. Fit my older 20 year old Packasport perfectly, works like new again!